Certified USPS Shipment to USA only
Welcome to DIY Implementer Store!
Latest Products
See New Products
Bestsellers
See Best Selling Products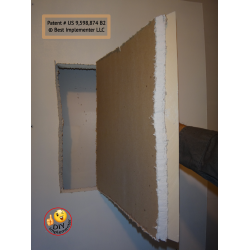 The purpose of the drywall temporary access creation and closing tool is to simplify the creation of temporary access to the area behind the drywall and to simplify the processes of restoring the drywall to its original condition after completion of the work. Temporary Access could be created for many various reasons: fixing old or installing new plumbing, installing forced air duct system, installing insulation, fixing issues with existing or running new electrical or computer cables.