Want to learn to fly? Here's how I got started.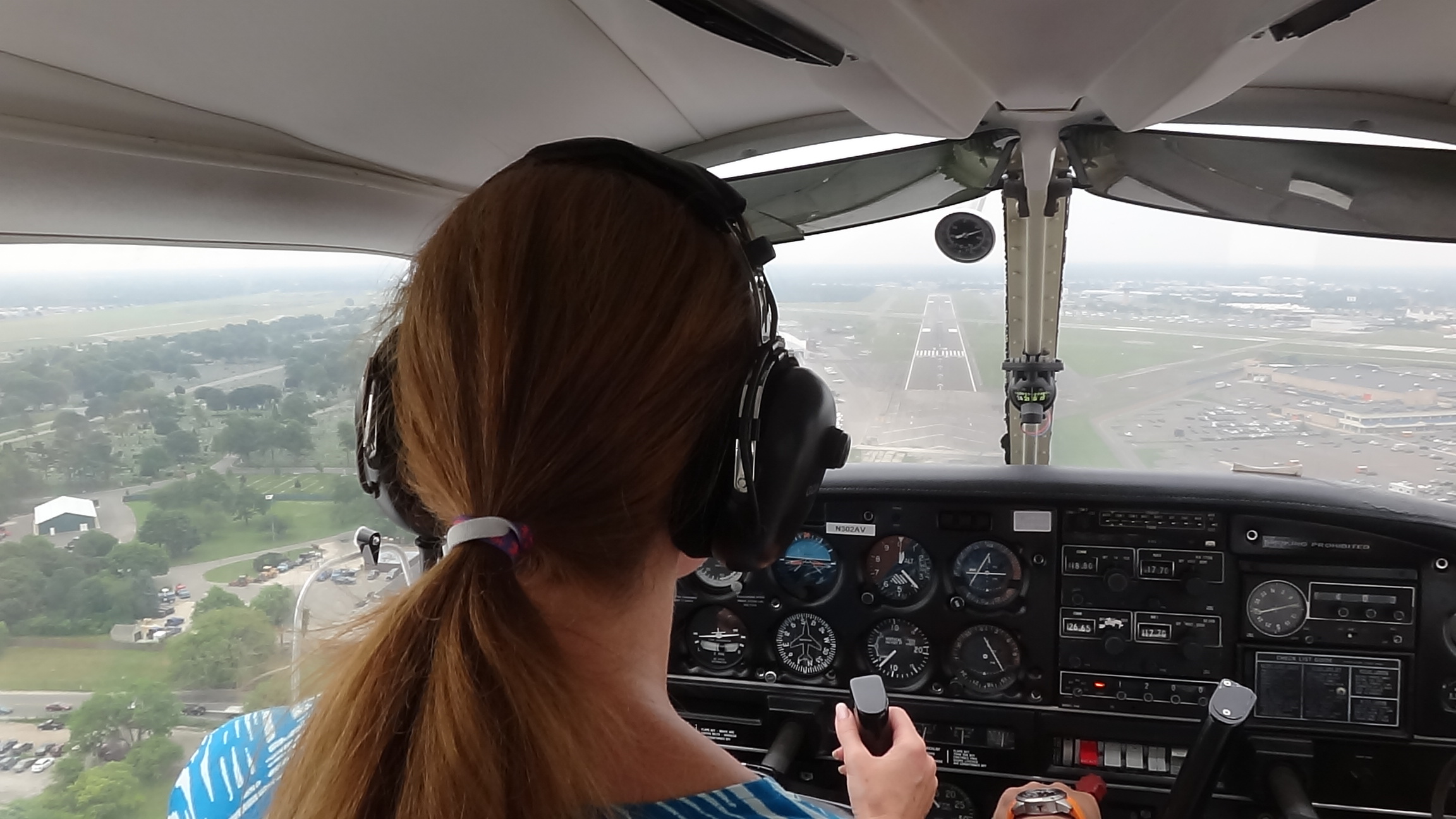 Being able to fly always been a dream of mine. As long as I remember myself, skies called me up. I wanted to feel what it likes to fly free as a bird, being able to ascent, descent, turn left and right, looking down from a birds's-eye view. Often in my dreams I flew over constantly changing scenery, over creeks and mountains, lakes and meadows, over villages and people going on with their daily life's… Just to wake up to the reality that I can only experience it in my dreams. I understood that it is practically impossible for a girl to fly a plane in my country back then. It made me sad realizing I would probably never ever know what it feels like to fly and being able to control my flight. I will fly as a passenger of a commercial airplane but that would be it.
I was so happy when I found out about jumping with parachute classes. Girls were allowed and the earliest age accepted is 15. I could not wait! It is hard to compare parachute jumping and flying a plane or a helicopter. It's just a free fall but free fall is sort of flying, right? LOL. Back then that was the closest thing to flying anyways and that was exciting!
Fast forward about twenty years. On my birthday kids presented me with an envelope. That was unusual. Instead of funny wrapped gifts with colorful ribbon bows, just one plain envelope. When I opened it up, my heart dropped and tears rolled down my cheeks. I looked at them with unbelief.
"Congratulations! You've received a gift of Flight!"
One birthday I will never forget! That day I flew an aircraft for a first time! After one hour of ground briefing which felt like it zipped by faster than you normally take off. It did not feel real. We covered cockpit control familiarization, basic in-flight control and pre-flight inspection. When flight instructor said I'm ready to go, realization that I'm about to fly just hit me. Really? Was I really going to fly after just one hour of instruction? What about time practicing in a simulator? (Come on, not even five minutes?) My adrenaline was pumping and I was both nervous and stoked. I knew flight instructor will be in the cabin with me all the time and help me take off and land. I wasn't nervous about that. Feeling that my lifelong dream will soon become a reality was unbelievable.
During typical first lesson, flight instructor usually conducts the take-off and landing but once airborne, it's typically all on you. As soon as we hit 700 feet, the flight instructor told me to take over controls and while continuing making an instructions asked me to make turns, climbs and descents. Once the plane was in my control, to say the feeling of flying is incredible is an understatement. It was simply a magical, invigorating experience from start to finish. After a few shaky minutes on my own, I felt at ease and got the hang of it. My flight instructor was pleasantly surprised by how comfortable I became. We flew along the Long Island shore, along Robert Moses beach, made few circles around light house. Before I knew it, it was time to start heading back to the runway…
It's a common mantra in aviation that the only way to learn to fly is to go to flight school. While a large flight school may offer a standardized curriculum and potentially lower rates, there are disadvantages, too. Recent federal regulations require new pilots to have substantially more flying experience. This trend isn't great for anybody who just wants to learn to fly recreationally, though. Finding a freelance flight instructor will give you more individualized training at a lower price. A dedicated flight instructor will not be held to a strict training outline and will be flexible to your learning abilities and budget. And an independent instructor will typically teach you in any aircraft you choose. It may require some legwork to locate a qualified trainer near you. Checking your local airport office for classifieds is a great way to connect with an independent instructor. Also, aviation is a pretty tight community. If you happen to know a pilot, chances are they can recommend someone great.
A lot of flight training happens on the ground. In fact, at the conclusion of your training you'll be tested in three phases, and only one of those will demonstrate your flying capabilities. The other two consist of a multiple-choice written test and an oral exam conducted by either an FAA official or a pilot examiner. Hit the books!
Even though it is impossible to know everything, it is always good to know a little about a lot!