Details

Written by

DIY Implementer

Category: Snorkeling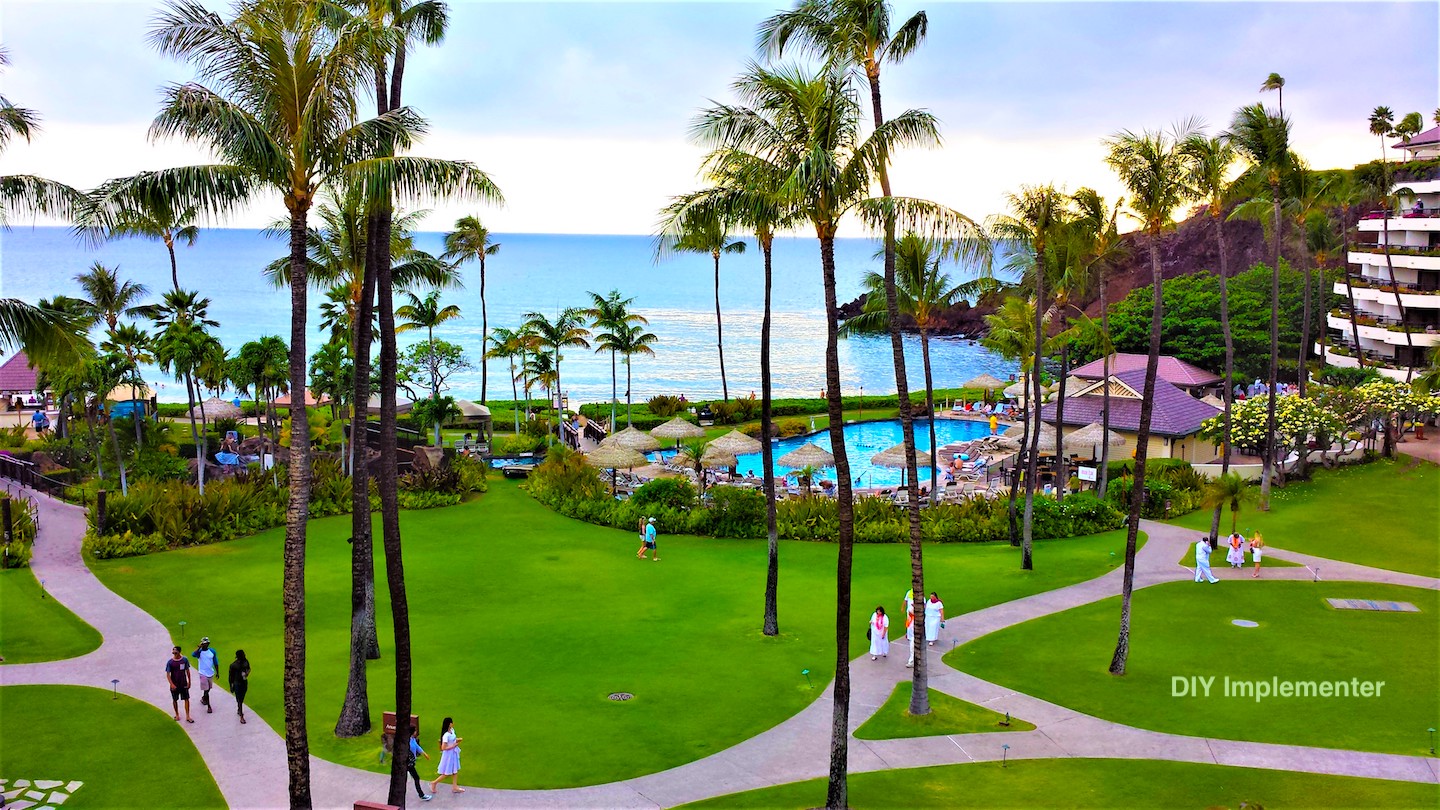 One of the main reasons we choose Sheraton Maui hotel was the famous Black Rock Riff and it's Aqua Adventures.
What more can you ask for than a crystal clear water and variety of colorful fish and corals.
But the cherry on top of all this beauty is the chance to swim with the turtles!
We thought we would be lucky if we can spot and take a picture of one or two turtles.
We were wrong! The Black Rock Riff is a feeding place for many many turtles! We lost count of them on the first day!
We made countless underwater pictures and videos.
Turtles are intelligent creatures, they are friendly and curious.
One of them was so curious that it came very close - literally face to face and looked me in the eyes!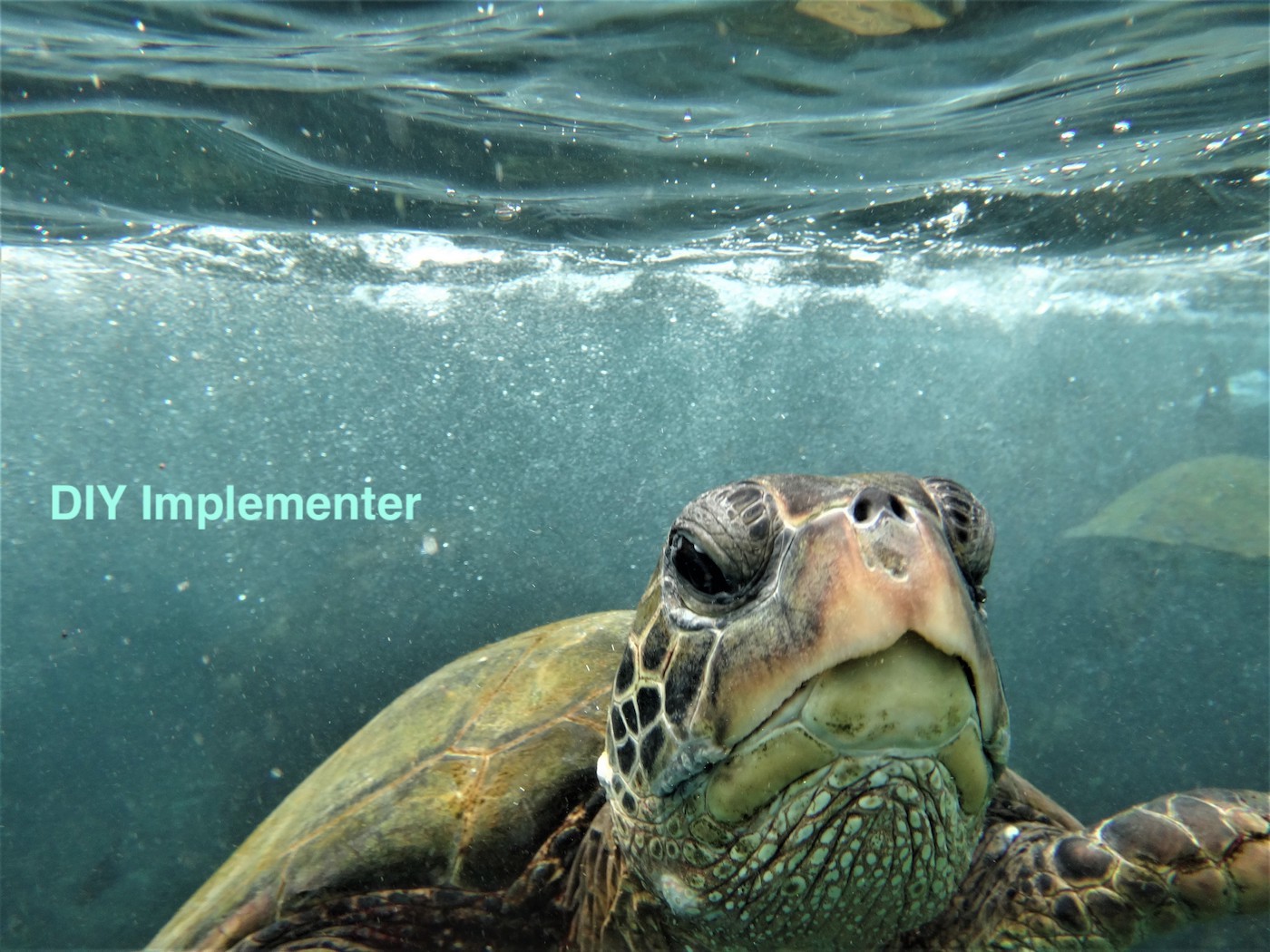 All pictures and videos at Blackrock Riff were taken by Sony Digital Waterproof Camera .
I love this camera, it takes perfect pictures on land and under water.
This camera is just perfect for snorkeling!
It's so small it can easily fit in your pocket.
Easy to take care for, all you need after taking underwater pictures is to wash it for couple minutes with fresh water.
I also own previous Old version underwater Camera. I used it for several years and I took many beautiful pictures, but on the last trip to Bahamas I dove deeper then 10 meters to pickup a beautiful shell from the bottom of the ocean. It caused a small crack on the frame corner, it still didn't let the water in!!! But for this vacation I decided not take any chances and to buy a new version of the same camera to make sure I would be able to keep taking pictures no matter what. The best memory card for this camera is original Sony 64GB Micro Memory Card it fits tons of pictures and movies, it will be more than sufficient to last for the duration of your vacation.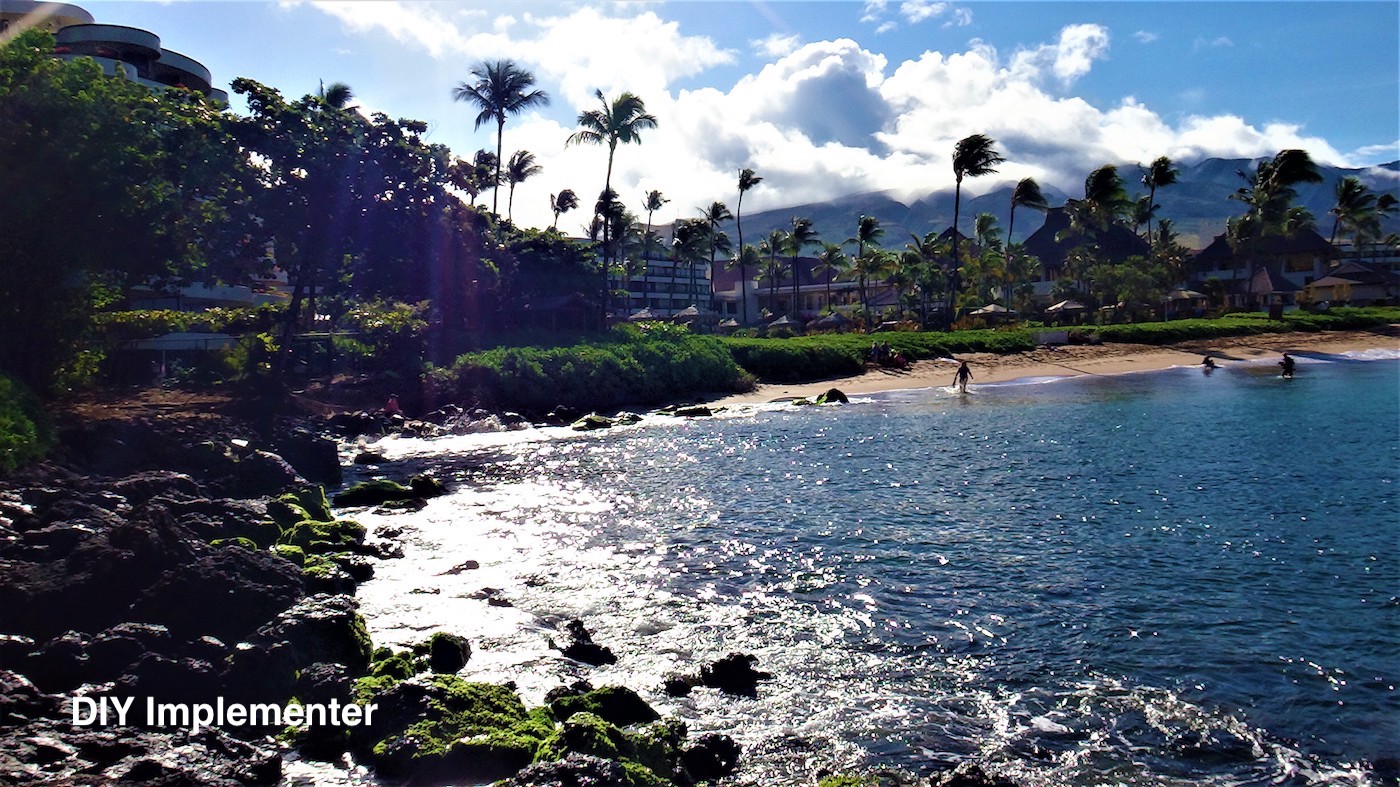 This picture is taken from Blackrock Riff towards the beach in front of Sheraton Maui Hotel.
The views are beautiful anywhere you look!
We used Cressi Panoramic Wide View Mask Dry Snorkel Set. This mask and snorkel set good for diving as well. We used this set during our dives at Maui's Airport beach at the depth of 45 and 60 feet and diving at Jamaica Negril at the depth of 65 feet. Most hotels provide snorkeling equipment at no charge but we prefer to use our own equipment, it's more clean and sanitary...
We would also recommend to use defogger, otherwise mask gets foggy and you would not see anything after 5 min under water... . There are many different types of defoggers on the market, some people even use a toothpaste. We personally prefer 500 psi Mask Defogger with Carabiner.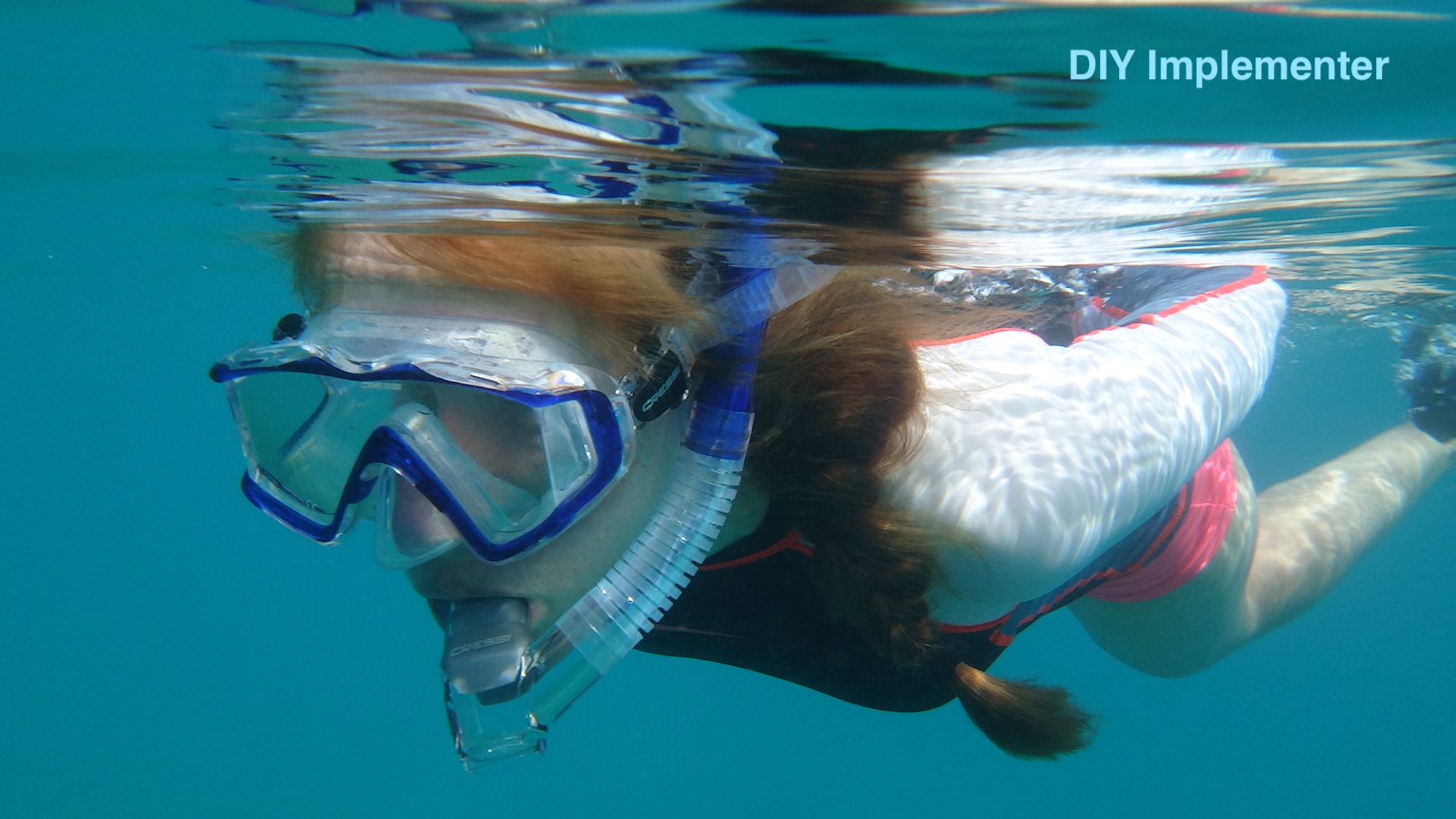 Very comfy UV Sun Protection Top keeps skin from sunburn and dries quickly. They have it in such wide variety of colors, its hard to pick one,
I always get few so I can mix and match it with my shorts.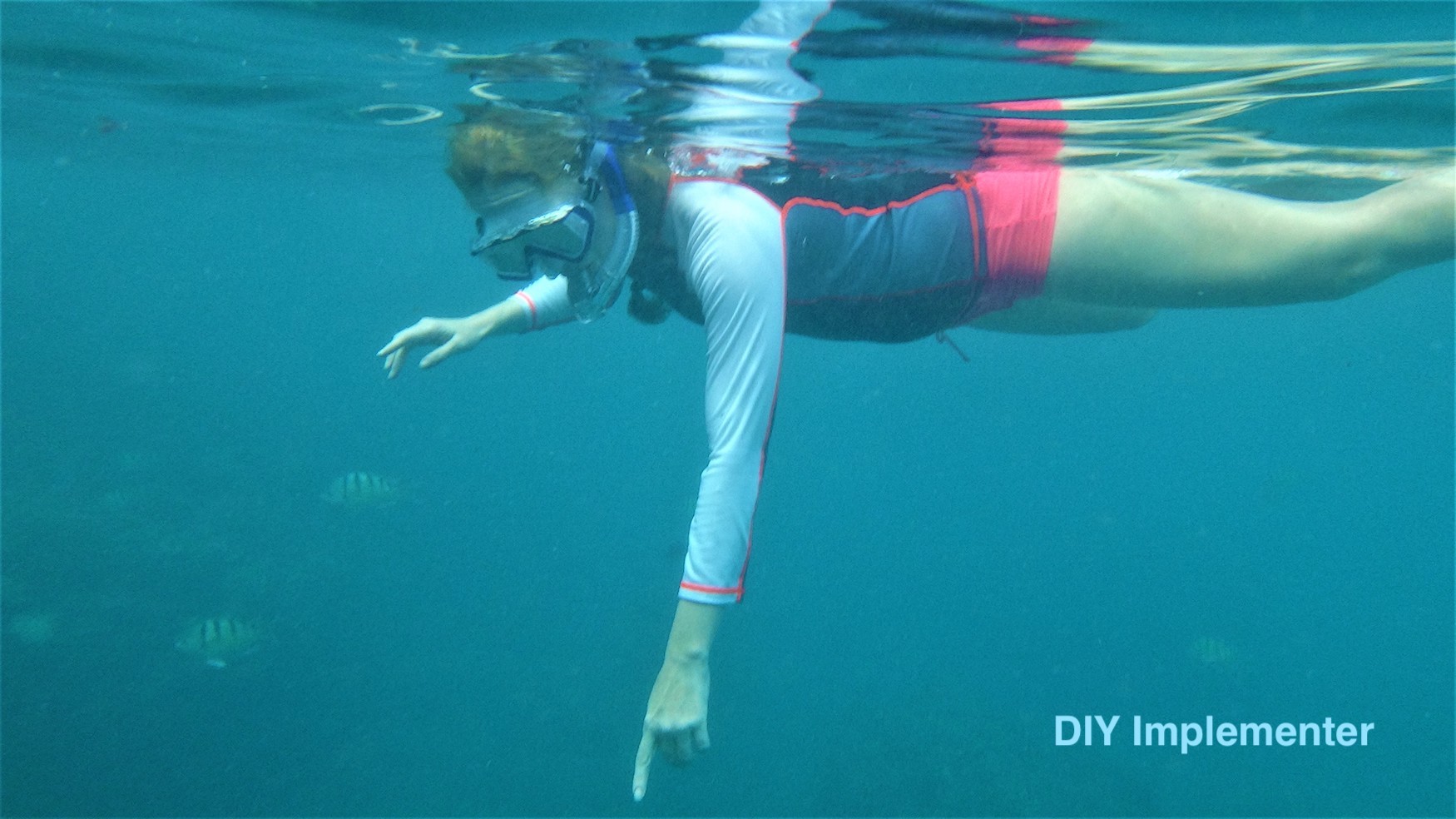 It was fun swimming with turtles and making pictures. Waterproof selfie stick was big help. It is easy to use, got good grip, extends up to 36 in and Suitable not only for waterproof camera but also for iPhone 7,iPhone 7 plus,iPhone 6,iPhone 6 plus,iPhone 5, Android mobile phone, iPad, iPod Touch, Samsung Galaxy S3, Galaxy S4,Action Camera,iOS Smartphone and GoPro Camera.
You see the turtles and you swim fast towards them...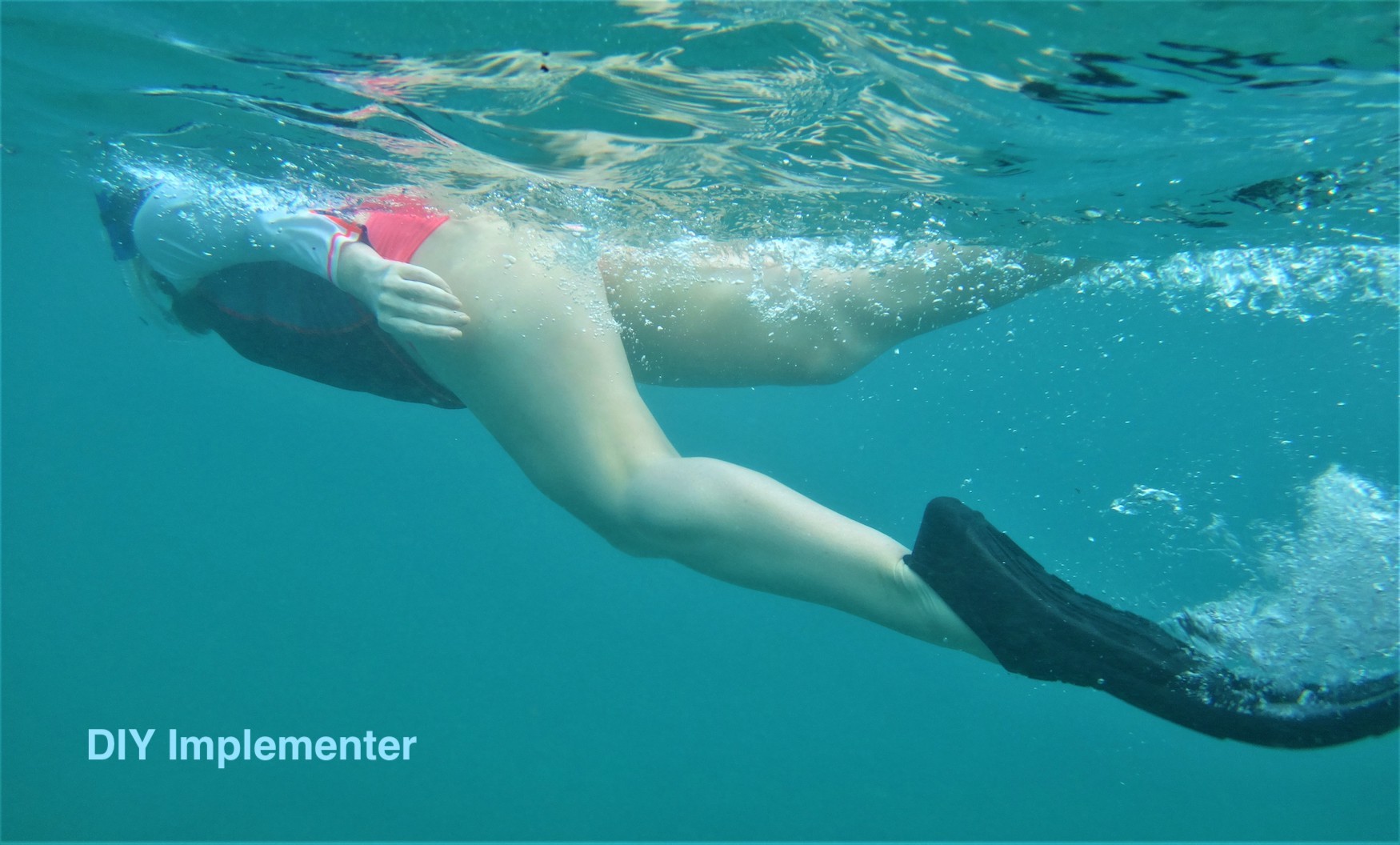 We also prefer to use our own fins. In most of the diving and snorkeling places they have very old and bad quality fins that are not fitting well and can spoil your diving or snorkeling experience.
You can find a lot of different type of fins on the market. We personally prefer Cressi PLUMA, Full Foot Lightweight Fins for Diving & Snorkeling. It's Italian brand, very good quality, really lightweight, feel strong and supportive but not cutting into the heels, they slip on pretty easily and are snug as they should. Also can be used by men or woman - unisex sort. We really enjoyed them during our diving and snorkeling adventures on Hawaii and Jamaica.
If you have good gear: mask and fins that are fit good, you can get close enough to turtles to make beautiful memorable pictures: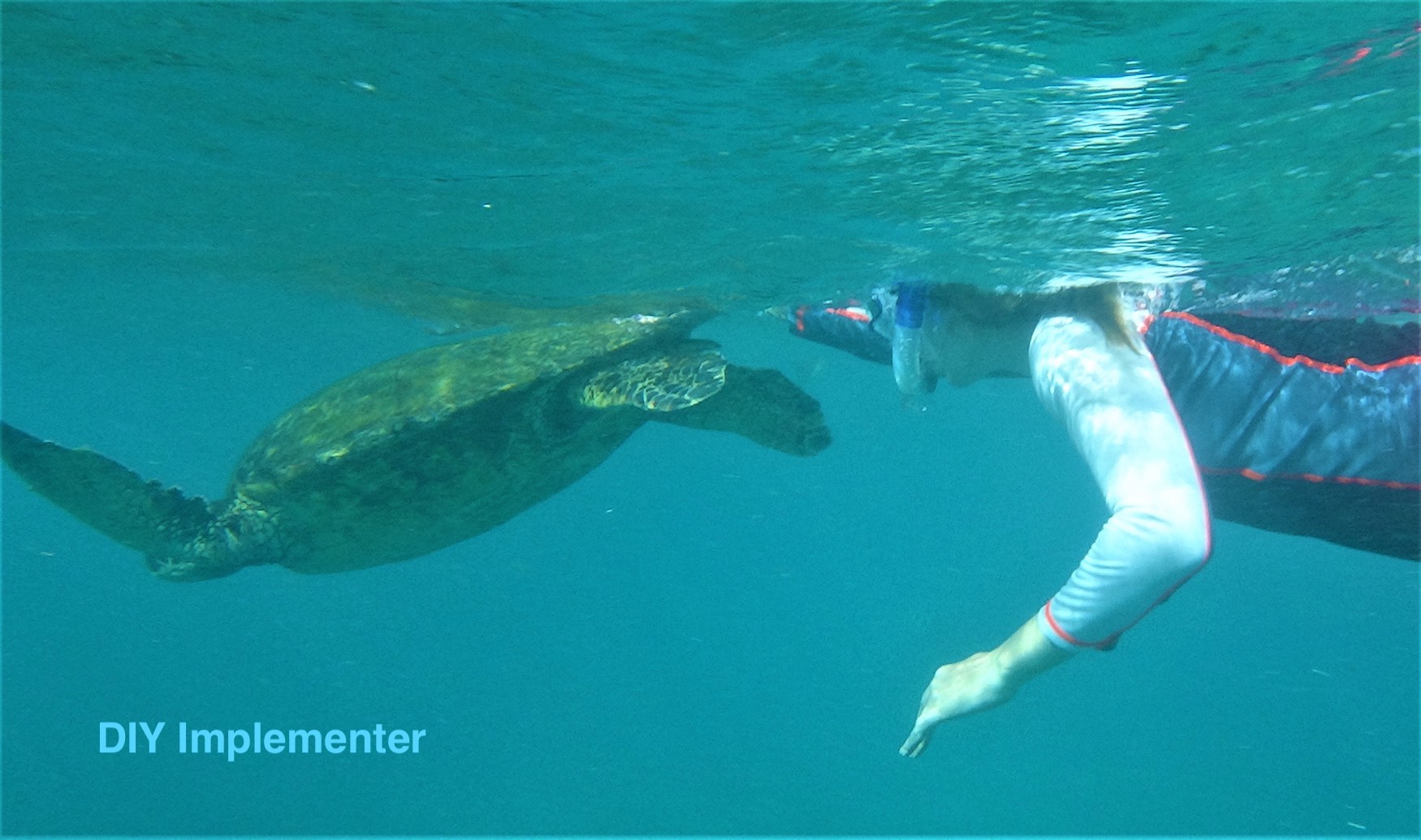 Good fitted fins will help you to keep up with fast swimming turtles.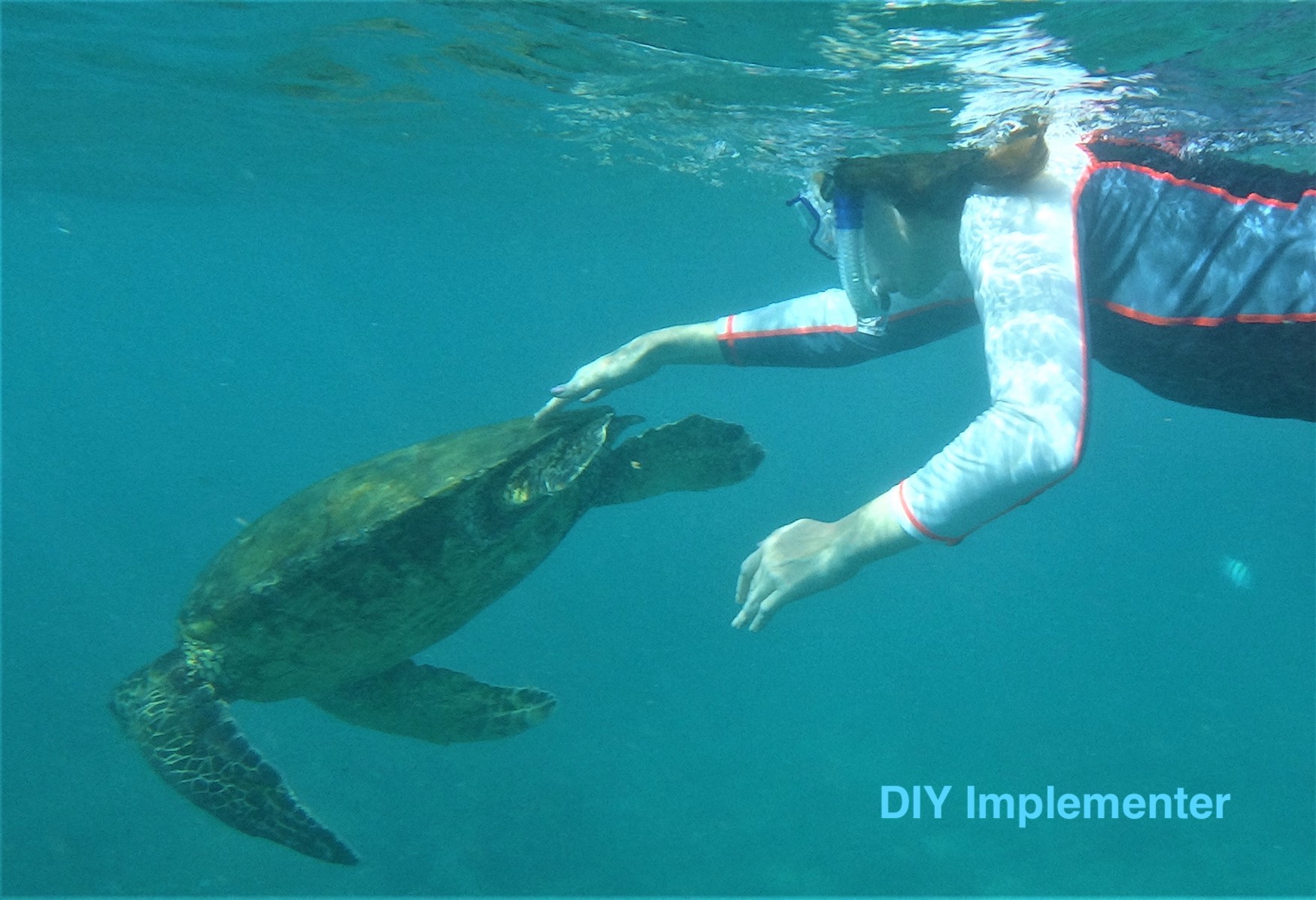 if you lucky you can have a high five with turtle's fin! ;)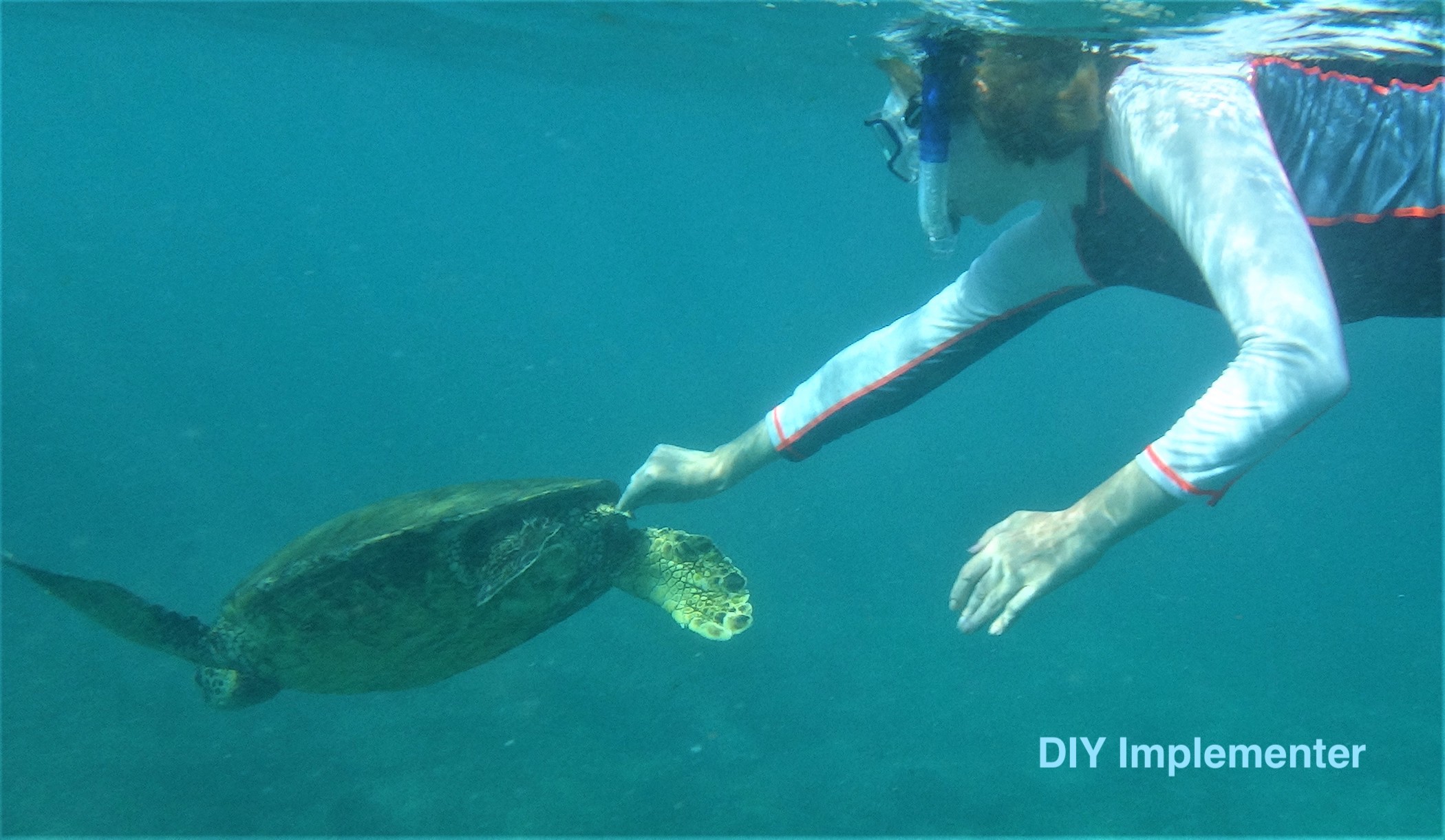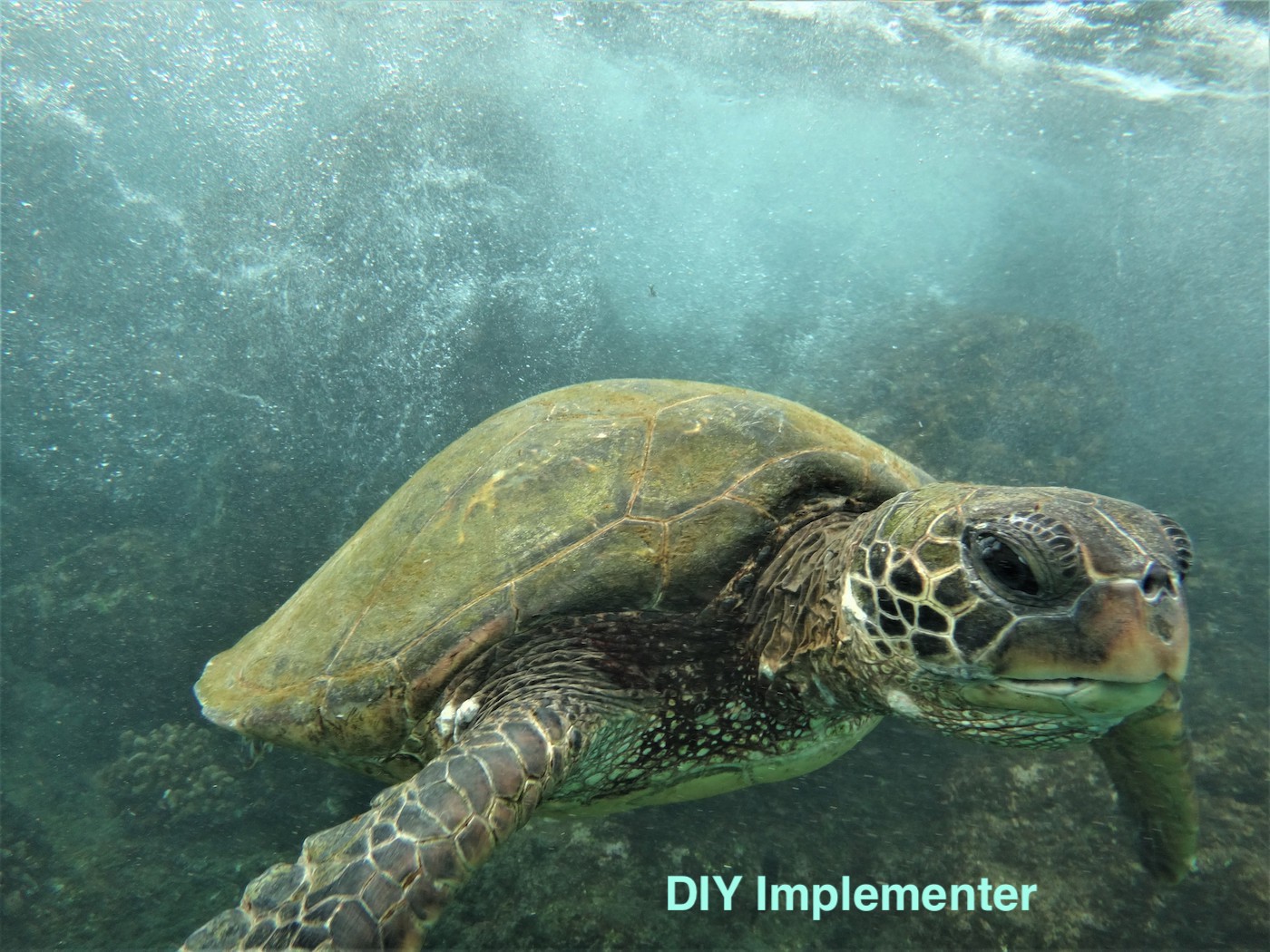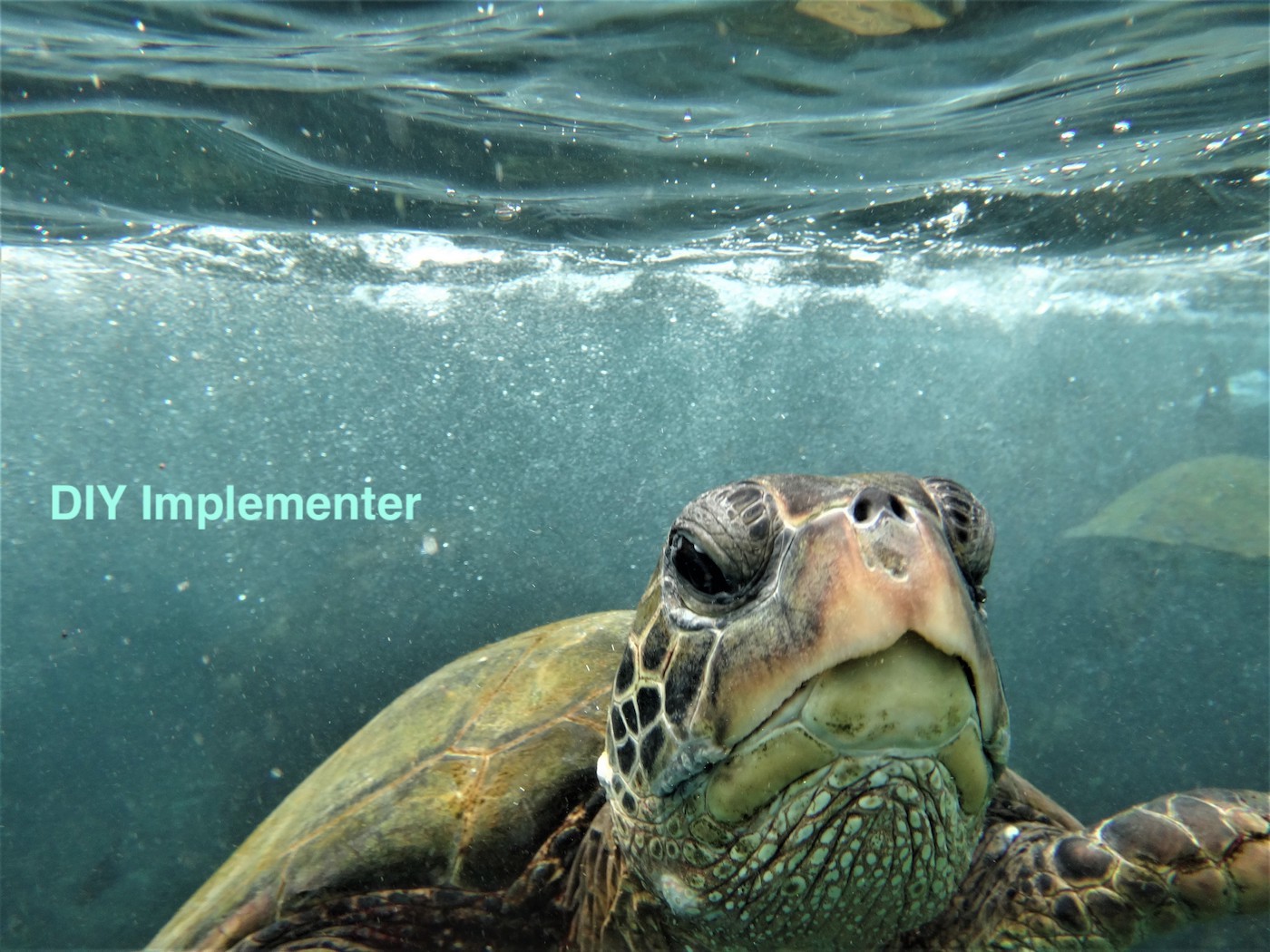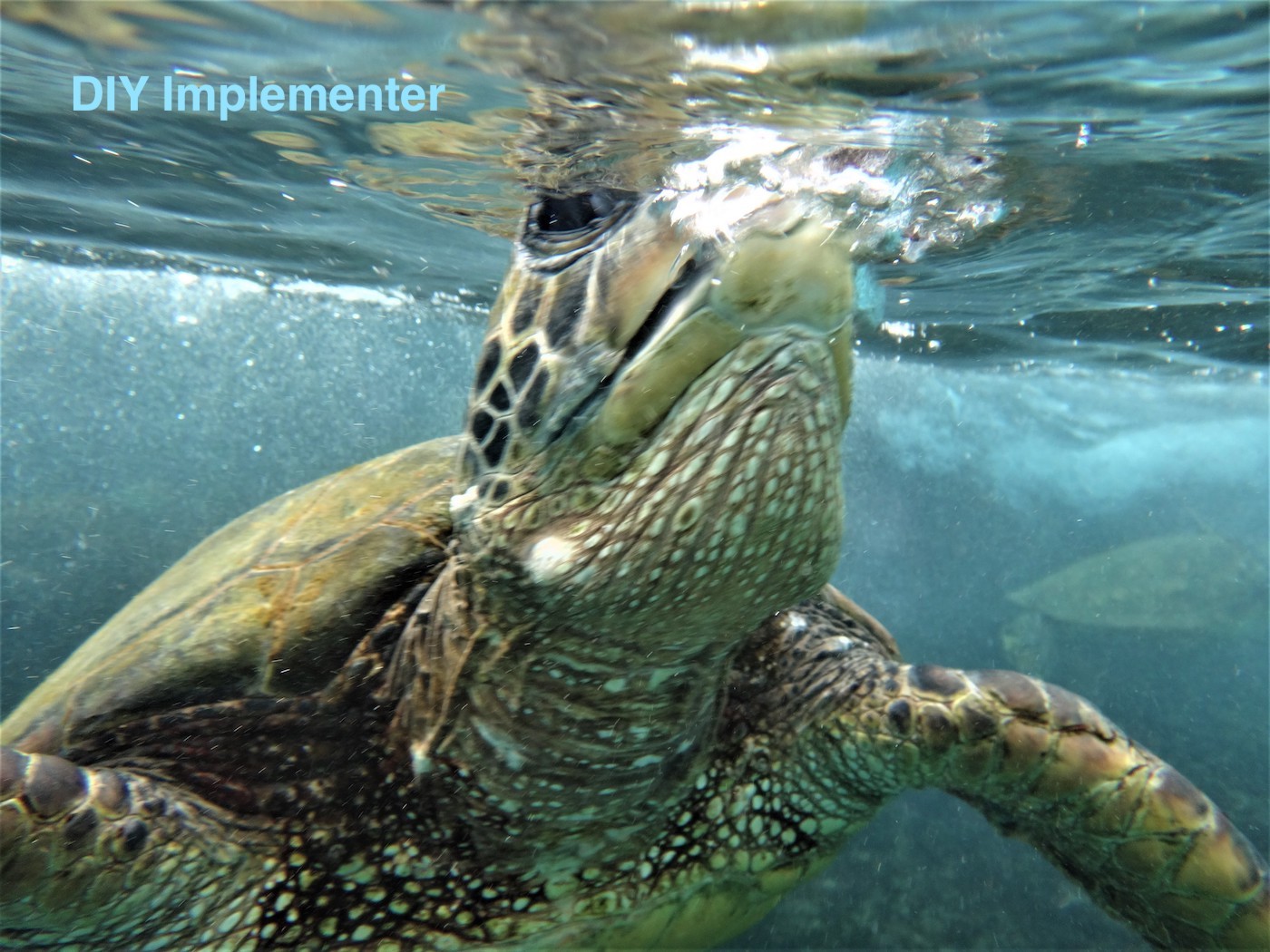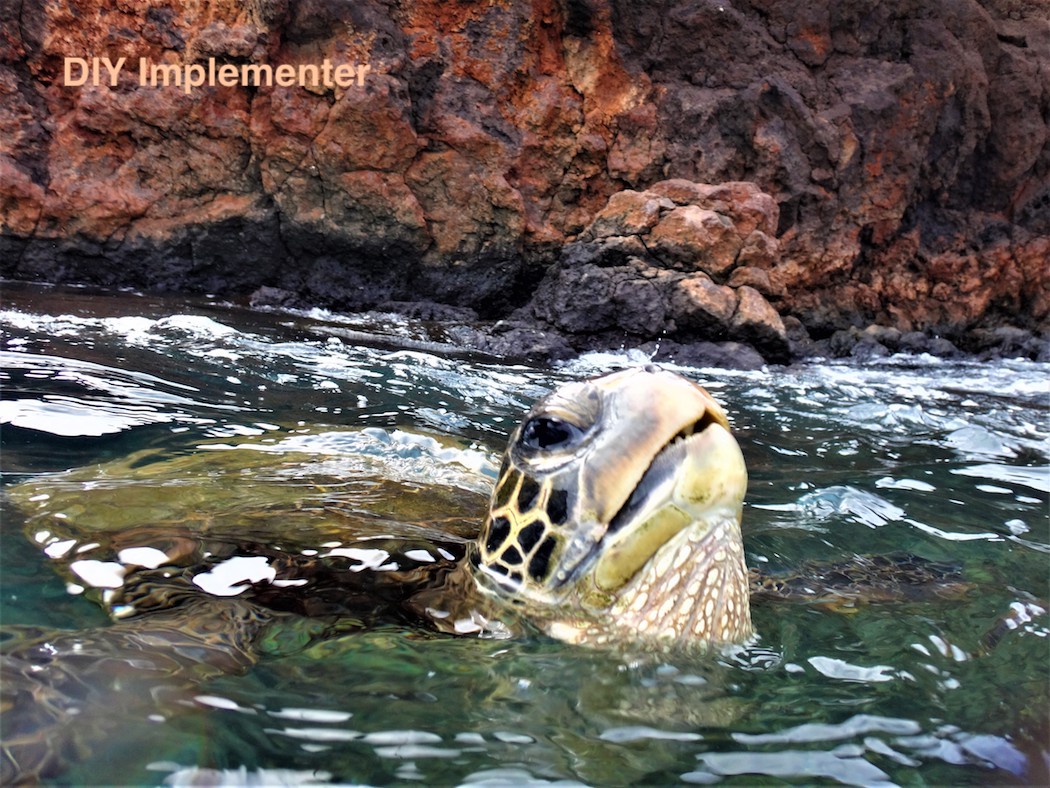 Start creating your own memories, get to Maui and swim with the turtles!
Check for the best Airline and Hotel rates at the links below:



DIY Implementer Newsletter